In early 1914 two plans involving "Change" came into fruition. In conjunction with an American producer called Walter Hast the company which had presented "Change" at the Haymarket in London, newly named "The Welsh Players", sailed for America to present the play in New York. It opened at the Booth Theatre on February 7th but wasn't that well received. It was a bitterly cold winter with severe snow problems and those who did venture out didn't necessarily understand the Welshness they witnessed. A tour of neighbouring States and even Montreal in Canada was hastily arranged before the play returned to the Park Theatre, New York for two weeks in April to attempt to gain better reviews. "Change" then presented in Chicago between the 20th April and the 9th of May before closing its US adventure.
Meanwhile, back in Wales, the "Welsh National Drama Ltd" under the guidance of Lord Howard de Walden had been planning to present "Change" and other Welsh plays in Cardiff, prior to touring in Wales. In charge of production and direction was Edward "Ted" Hopkins, a man capable of filling a theatre in his own right. A whole week of Welsh Drama opened at the New Theatre, Cardiff in May 1914. Both the Chancellor, Lloyd George and John Lewis, a financial supporter, visited Cardiff to see the play. Among the other plays presented was "Pont Orewyn" written by Thomas Evelyn Ellis (Lord Howard de Walden).
Sadly, no permanent National Drama structure survived this important movement. Within a matter of months the country was at war. This had been the first and, probably, the best attempt to create a National Theatre for Wales and should be recognised as such.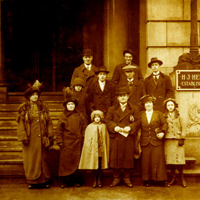 The Welsh Players
in Chicago